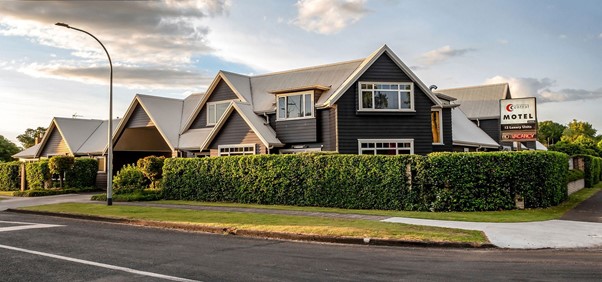 As the newest motel in Matamata, Matamata Central Motel has stylish and spacious fully serviced and self-contained unit that are ideal for all types of traveller.
Matamata Central Motel is owned and operated seasoned travellers Hilary and Wayne Chalmers who took over the business in 2019.
Taking the business to another level, each unit is tastefully appointed, spacious and comes with fully equipped kitchens, deluxe bathrooms, and comfortable beds for your complete luxury stay.
Going above and beyond with their commitment to customer service, the team at Matamata Central Motel pride themselves in providing a quality and comfortable guest experience. "We also strive to ensure that our guests will walk away with an experience to remember,"says Wayne.
Matamata Central Motel lives up to its name being in close range of fun and interesting activities such as Opal Hot Springs, the Firth Tower Museum, Hobbiton Movie Set Tours and the must see Wairere Falls. They are also opposite the New World and The Warehouse for your convenience and just a short walk to bars and restaurants.
Its fantastic location is unrivalled for anyone visiting the Waikato. It also just a 45-minute drive to Tauranga, 51-minute drive to Hamilton and a 58-minute Drive to Rotorua, making it the perfect spot to base yourself to experience day trips to the surrounding cities.
"We offer a personal touch. We share with our guests assisting them with what their plans are whilst here in town and offering them information around the neighbouring towns and cities," adds Wayne.
Matamata Central Motel offer and charge-back facilities, dine in or dine out on request. All units have heat pumps for winter comfort and air-conditioning to keep you cool during the hot kiwi summer.
Believing in integrity, respect, responsibility, sportsmanship, servant leadership, Matamata Central Motel is ideal for families, couples, visitors to Waikato and Braemar hospitals, corporate travellers and independent travellers.
Whether you are in town to catch the latest horse racing action, attend an event, business travel and everything in between, make sure you get the best deal and support a local business, by visiting their website at https://www.matamatacentralmotel.co.nz/ to book direct.
Contact Matamata Central Motel:
42 Waharoa Road West, Matamata, New Zealand
0800 777 745
stay@matamatacentralmotel.co.nz
Contact MediaPA:
Phone: 0274 587 724
Email: phillip@mediapa.co.nz
Website: https://www.mediapa.co.nz
Facebook: https://www.facebook.com/MediaPA
YouTube: https://www.youtube.com/user/TheMediaPA