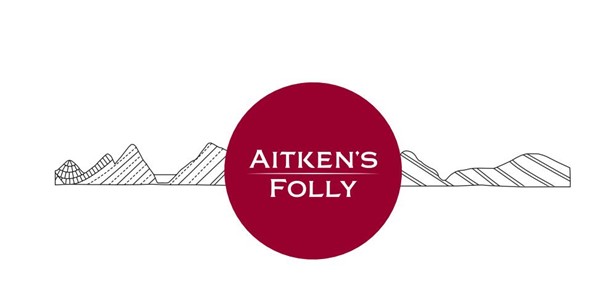 Located deep in the heart in central Otago, is a vineyard that is mixing it up with the giants of New Zealand wine – Aitken's Folly.
"We are proud to be punching above our weight," says Ian Percy who owns and operates Aitken's Folly with his wife Fiona Aitken.
Aitken's Folly made their mark on the New Zealand wine industry, when they planted a unique variety of grapes for their chardonnay, being the first in New Zealand to plant this variety.
Moving from the UK with a dreaming of a lifestyle change and running their own vineyard, Ian and Fiona arrived in New Zealand in 2008, with their two young children in tow.
As experienced and trained geologists as their background, they had not a jot of viticulture experience, but that didn't dampen their motivation and passion for achieving their dream of running their own vineyard.
Understanding their limitations, Ian and Fiona, enlisted the help of James Dicey. "James is great at keeping us on the right track with the right advice and guidance," says Ian.
Set over 3.0 gorgeous hectares of land, Aitken's Folly was named after a colleague of Fiona suggested that what we were about to do was a folly.
Growing great quality grapes, Aitken's Folly now featuring a highly regarded Pinot Noir and Chardonnay. If you can't make it down to Wanaka to visit their vineyard, you can purchase their wine from their online shop.
Their 2018 chardonnay features notes of marmalade and tropical fruit aromas with peach, nectarine, citrus blossom and dill. Described as warm and intriguing, you will be greeted with aromas of toasted brioche and hints of roasted nuts.
Ian and Fiona welcome everyone to visit Aitken's Folly and participate in their cellar door experience. "We warmly welcome everyone as individual and make sure they are given the VIP treatment," says Ian.
Valuing honesty, quality and enjoyment, the team at Aitken's Folly business goals include having the best chardonnay and pinot noir in New Zealand, remain affordable, and still enjoy the business.
For wine lovers, it's hard to pass up joining Aitken's Folly Wine Club. By signing up to their wine club, you will receive a quarterly handpicked selection of Aitken's Folly wines, chosen with the season in mind, along with food matches created for each wine.
Aitken's Folly at a glance:
Location: Wanaka, Central Otago, NZ
Grape: Pinot Noir and Chardonnay
Soil: Fluvial and glacial outwash channels, ranging from sandy soils to cobble sized conglomerates
Exposure: Gently undulating
Pinot Noir: Mix of Abel, 667 and clone 5, cropping at around 5 tonnes/Ha
Chardonnay: 100% clone 548, one of the great Corton Charlemagne clones and the only wine in NZ to be made purely from it
Age: Planted 2009
Contact Aitken's Folly:
03 443 2663
ian@aitkensfolly.com
https://www.facebook.com/AitkensFollyhttps://aitkensfolly.com/
Aitken's Folly Vineyard
246 Riverbank Road
Wanaka 9382
Contact MediaPA:
Phone: 0274 587 724
Email: phillip@mediapa.co.nz
Website: www.mediapa.co.nz
Facebook: www.facebook.com/MediaPA
YouTube: www.youtube.com/user/TheMediaPA