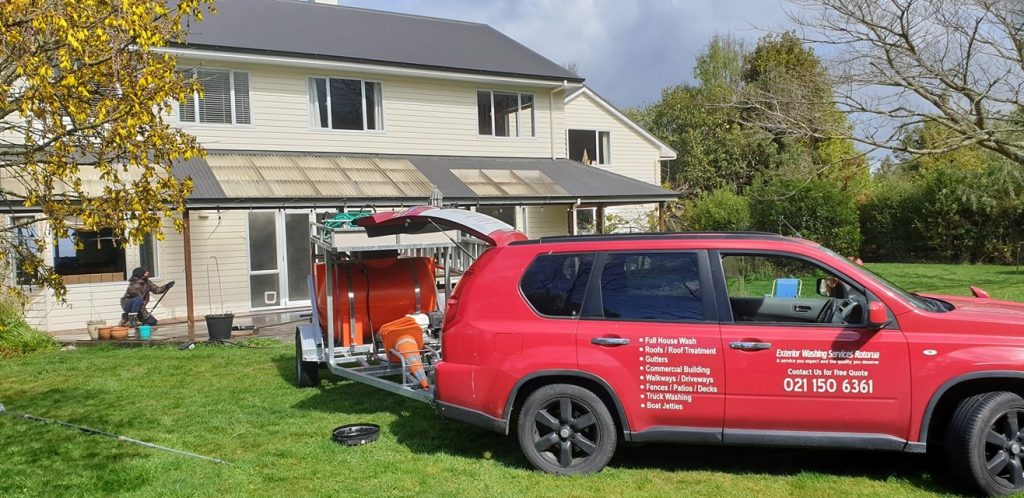 Roof cleaning is one of the most important services to consider when planning a house renovation and maintenance project says Rotorua's leading washing service for commercial and residential properties, Exterior Washing Services. Here are five qualities you need to look for when hiring a roof cleaning company.
History
Any good roof cleaning will have a proven track record of roof cleaning in the area When you talk to a roof cleaning company, ask how long they have been doing business in the area and how many projects they have worked on to understand its history. "Ask if they have any testimonials from previous clients that you can look at," says Exterior Washing Services owner/operator, Johnny Saini.
Local Expertise
Issues that affect roofs in the deep south will be a different to issues that affect roofs in the Waikato. "A good cleaning company will the know about the specific roof issues affecting homeowners in the local area," says Johnny.
Roof Material Specialists
There are many different types of roof, and as such require different cleaning methods. Choosing the correct cleaning method for the roof is particularly important as to avoid damaging roof. Your roof cleaning company should have rich knowledge and experience, involving various roof styles and materials. Ask the company about their level of experience working on your specific type of roof.
Eco-Friendly
Select a roof cleaning service provider that provides environmental protection services and eco-friendly services practices. You will want to ensure that the cleaning solutions they use comply with the environmental policies and regulations of the area. "Eco-friendly products will also be gentler on your garden," adds Johnny.
Clean Up Service
The last thing you want, when hiring a company to clean the roof, is to see a garden full of moss, leaves, branches and other debris. So always ask if the company will provide a full clean-up after the work is completed. This means picking up all the materials removed from the roof and then removing them from the property.
Exterior Washing Services provides high-quality commercial or industrial property cleaning at affordable rates across the Waikato and Bay Of Plenty. For a free quote, give Johnny at Exterior Washing Services a call on 021 150 6361.
Contact Exterior Washing Services:
https://exteriorwashing.co.nz/
https://www.facebook.com/ExteriorWashingRotorua/
021 150 6361
extwsh@gmail.com
Contact MediaPA:
Phone: 0274 587 724
Email: phillip@mediapa.co.nz
Website: https://www.mediapa.co.nz
Facebook: https://www.facebook.com/MediaPA
YouTube: https://www.youtube.com/user/TheMediaPA