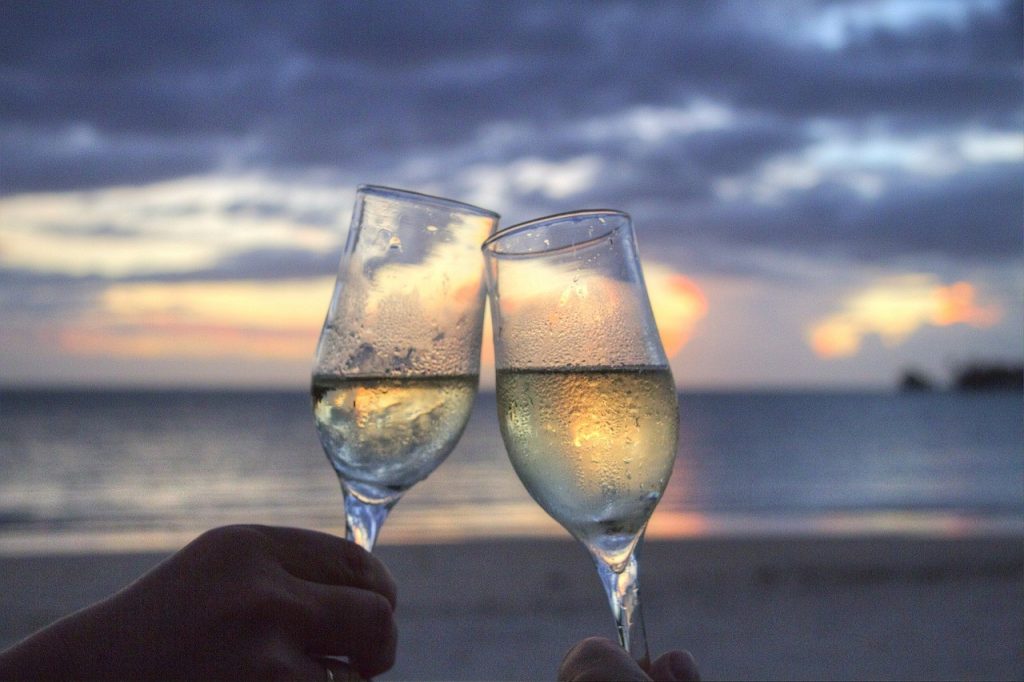 We can all agree that drinks are an important part of any wedding, no matter if we're talking about welcome drinks upon arrival, wedding reception drinks, or drinks with the meal. If your wedding is coming up and you don't really know which drinks to opt for, don't worry at all because we're here to help you out! Here are five amazing drinks to serve at a summer wedding, so check them out and enjoy!
You won't make a mistake with champagne cocktails
Everyone knows that a glass of champagne or prosecco is an absolute must at almost every wedding reception, but you know what? You should definitely make it a bit more modern by opting for a champagne cocktail instead, and the first thing you should do is to choose champagne saucers rather than traditional flutes. This will inevitably add a Gatsby vibe to the overall wedding theme, and there's nothing bad about it, right? As for the cocktail itself, you can go for Mimosa (champagne and orange juice) or Kir Royale (champagne and Crème de Cassis). To make it even more theatrical, stack the glasses in a pyramid and pour the bubbly over for a dramatic effect!
Craft beer is a great idea…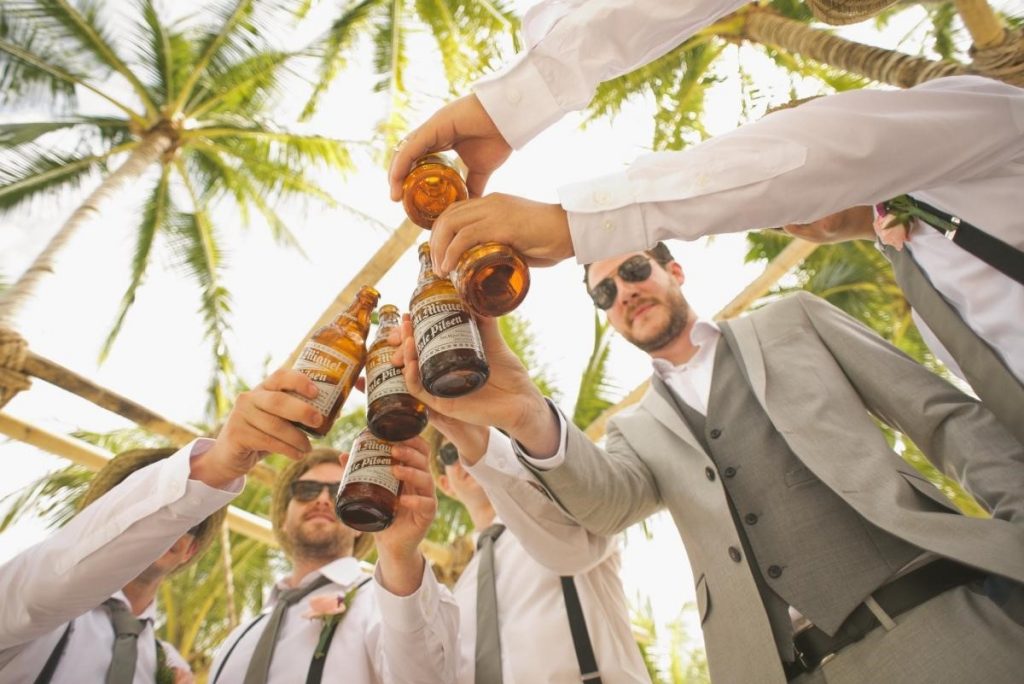 Even though beer probably isn't at the top of your list of drinks that should be served at your wedding, we have to say that more and more couples are opting for it these days. In fact, they're going for craft beer, which is a fantastic way to promote their small, local breweries while allowing their guests to enjoy top-quality beer. Besides that, you should know that working with a local brewery can be much easier (and more affordable) than selecting popular beers sold worldwide, which is a good enough reason to take it into consideration. On the other hand, if there isn't a brewery nearby, all you have to do is to find the best craft beer store and get enough beer for everyone. Trust us when we say that your guests will love it!
… As well as the old-school mojitos
Yes, we know that mojito is one of the most frequently mentioned cocktails in the history of cocktails, but we must say that there hardly is anything better than it on a hot summer day. Mojitos are crisp, cool, and forever a favourite at a cocktail bar, which is why everyone loves them so much. Apart from providing the best possible flavour, a handful of mint will also make it look fresh and stunning, which is exactly what you need on your wedding day. Of course, if you think that some of your guests will prefer an alcohol-free cocktail, there are plenty of booze-free mojito alternatives they'll absolutely adore. Just give them a try and you won't regret it!
Sparkling cider? Sure, why not!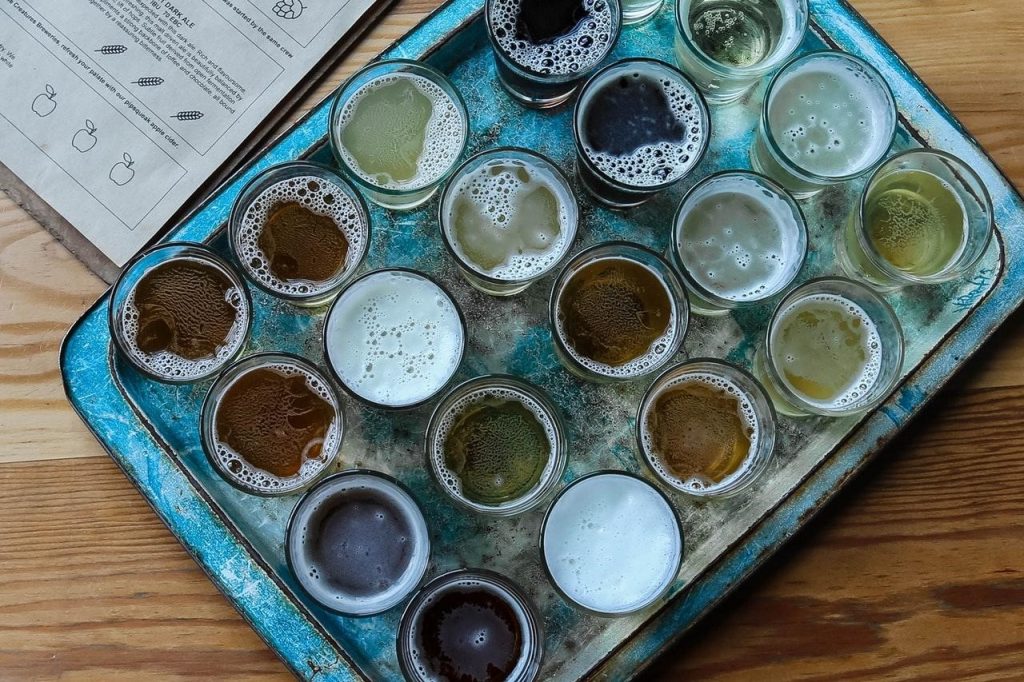 If you're on a budget but you still want to provide your guests with a nice, refreshing drink – sparkling cider is what you're looking for! This is a fantastic alternative to champagne which is low in alcohol at the same time, which is a good choice if you don't want your guests to become quite tipsy before the wedding ceremony. You must know that low alcohol doesn't always mean low quality or poor taste, so opt for sparkling cider and serve it in champagne flutes for a much better visual effect. The great thing about it is the fact that your guests will be able to enjoy an extra glass or two at no extra cost!
Water and mocktail station to the rescue
Last but not least, water and mocktail (aka mock cocktail) station can be a true life saver – especially when it comes to the hot and humid summer weather, when everyone needs quick refreshment. This is undoubtedly the best possible choice for the non-drinkers of the party, as well as for the children at your big day reception. As for the drinks, you should go for lemon or raspberry lemonade, sweetened and unsweetened ice tea, and water infused with fresh fruits. You can also come up with unconventional ice cubes that feature fruits such as strawberries, raspberries, and oranges. We're sure that everyone will love them!
Each of these five drinks is more than welcome at any summer wedding, so all you have to do is to pick at least one according to your overall theme and personal preferences. One thing is certain – you won't make a mistake whichever you opt for!