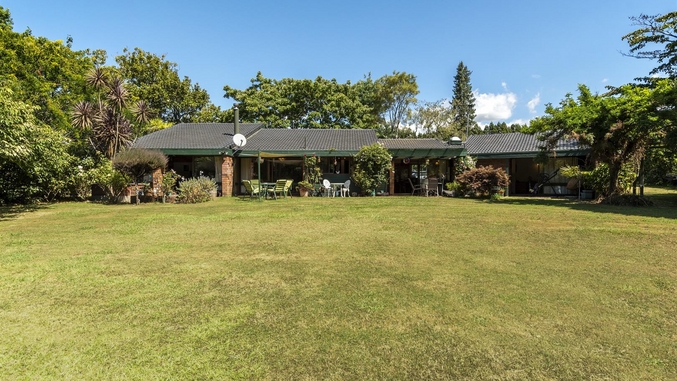 Nestled in the relaxed and sunny Bay of Plenty, this 6.8 ha property boasts a 4.8 ha kiwifruit canopy (.54 gold and 4.3 green).
This one-of-a-kind property is a unique blend of lifestyle and income. Situated in an idyllic location, close to metropolitan Tauranga and services, a prospect like this is rarely to be found.
This architecturally designed family home features rare and much sought after internal rimu panelling. The three well maintained lined gardens complement the aesthetics of the place perfectly. It is oh so easy to fall in love with the charm and the character of this place.
An idyllic family home that blends lifestyle with income, there is ample space to build and expand on this property. It is certainly a home and investment to be proud of.
It's not just the income and property that is up for grabs here, it is also a chance to escape the city and enjoy the relaxed and easy lifestyle the Bay of Plenty has to offer.
Relish in the nearby golden sand beaches, shop to you drop at Bayfair, enjoy aquatic leisure at Baywave or try to beat your personal best at the Te Puke Golf Club.
The property is central in proximity to tourism hot spots Te Puke (8 km), Tauranga CBD (34 km), Rotorua CBD (63 km) and Whakatane (73 km) which provide a range of businesses including hardware stores, cafés, restaurants, retail stores and more!
Another attractive advantage of this opportunity is that you don't need any experience in orchard work, as the local packhouse teams will take care of all the day to day management, it really is your choice.
If you are looking for a quality production orchard, in a great growing district, you cannot miss this chance to join the kiwifruit boom.
Kiwifruit is New Zealand's largest single horticultural export by both volume and value. Kiwifruit continues to be New Zealand's largest fresh fruit export, valued at $2.3 billion in 2019. A whopping 545,800 tonnes of kiwifruit exports were sent overseas.
The property is only being offered because of the retiring owners. Opportunities like this don't come up very often, you don't want to miss out on this. Check out the listing here: https://www.remaxruralurban.co.nz/horticultural-for-sale/768-road-number-1-te-puke-rru10064
Contact MediaPA:
Phone: 0274 587 724
Email: phillip@mediapa.co.nz
Website: www.mediapa.co.nz
Facebook: www.facebook.com/MediaPA
YouTube: www.youtube.com/user/TheMediaPA